Glasgow West End i South Side – Pubs and bars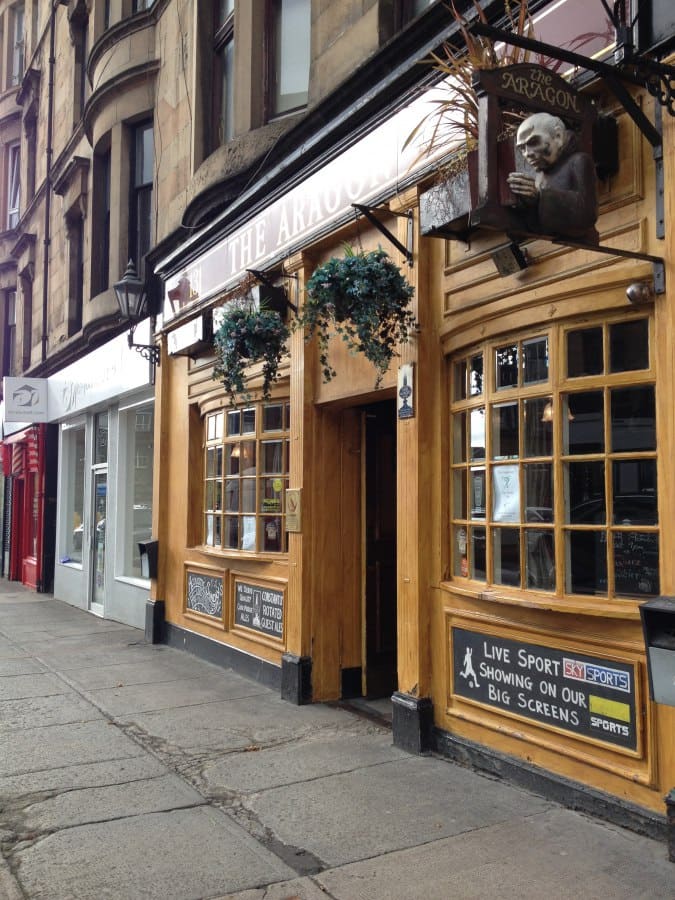 West End
The Aragon, 131 Byres Rd. An old fashioned bar frequented by a diverse crowd. The main attraction is the wide selection of beer types, among which you will find European fruit beers and native ales.
Bonham's, 194 Byres Rd. Tall, spacious bar with beautiful stained glass windows. Willingly visited, unpretentious; nice food during the day.
Brewery Tap, 1055 Sauchiehall St. The pub is known for its large selection of real ale and imported lager. Both students and locals come here; summer evenings can be spent at a table outside.
The Halt, 106 Woodlands Rd. A wide selection of beer and whiskey; relaxing music, regular jazz concerts.
Living Room, 5-9 Byres Rd. Recently opened, a trendy youth establishment located at the south end of Byres Rd. The Volcano nightclub is two steps away.
Mitchell's, 157 North St. A comfortable pub near the characteristic Mitchell's Library dome - the neighborhood with the library probably owes its scientific, quiet atmosphere. Perfect beer.
Patrick Tavern, 163-169 Dumbarton Rd. Traditional pub, in which they serve good Scottish food. Mood unpretentious, relaxing.
Tennent's, 191 Byres Rd. Large brasserie, real ale amateurs meeting place; a desirable change from nearby premises pampered by interior designers.
Battle Water, 232 Woodlands Rd. Little, the green neon with the name of the bar does not indicate the attractions hidden inside – kilts and music played on the bagpipes create a truly Scottish atmosphere. By the way, the name means whiskey in Gaelic, or "water of life".
The Western Bar, 80 Dumbarton Rd. Several generations away from nearby student cafes, an exceptionally nice working-class beer hall. Its walls are a Glasgow history textbook, with lots of old photographs and yellowed souvenirs hanging on them.
Whistler's Mother, 116-122 Byres Rd. A combination of a restaurant and an ordinary bar. Stylish decor does not conflict with the comfort of the interior.
South Side
Athena Taverna, 780 Pollokshaws Rd. A quiet haven for amateurs but, located near Queen's Park Railway Station; excellent Greek cuisine.
Boswell Hotel, 27 Mansionhouse Rd. Lively pub in Queen's Park; great mood, live music from time to time. A wide selection of ales, among them exceptionally strong domestic products; good bar food (tooth. str. 187).
Brazen Head, 1-3 Cathcart Rd. Irish / Italian bar near the Citizen's Theater, decorated with footballers' shirts. A favorite meeting place for local beer lovers, well stocked with Guinness and Gillespies.
Church on the Hill, 16 Algie St. On the hill behind Queen's Park. Wood and brass decorating the bar and restaurant create an old-fashioned atmosphere. They cook in the American fashion here. You can spend a warm evening at the table in the open air.
The Granary, 10 Kilmarnock Rd (10 a min walk south of Queen's Park). Nice bar, highly frequented restaurant with a large selection of burgers, steaks and Mexican dishes.
M .1 Heraghty, 708 Pollokshaws Rd. A tiny pub on the corner of Pollokshaws and Nithsdale Rd, visited by workers, Celtic matches are particularly crowded. Men's society (not even a ladies toilet, which must go to the neighboring premises).
Samuel Dowes, 69-71 Northside Rd (next to Pollokshields West train station). Very popular in South Side, cheap pub food. Live music from time to time; traditional Scottish ceilidh party every Sunday, and on the first Monday of the month, a poetry evening.
Satchmo's, 136 Battlefield Rd. Jazz reigns supreme in the bar near the Victoria Hospital. The unpretentious atmosphere attracts many visitors, especially on weekends.